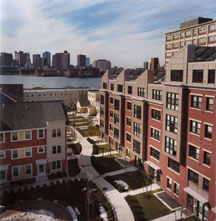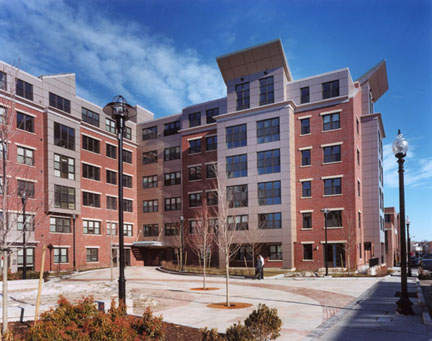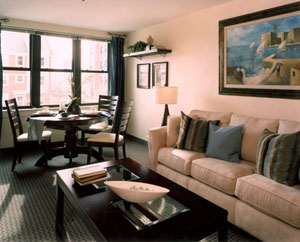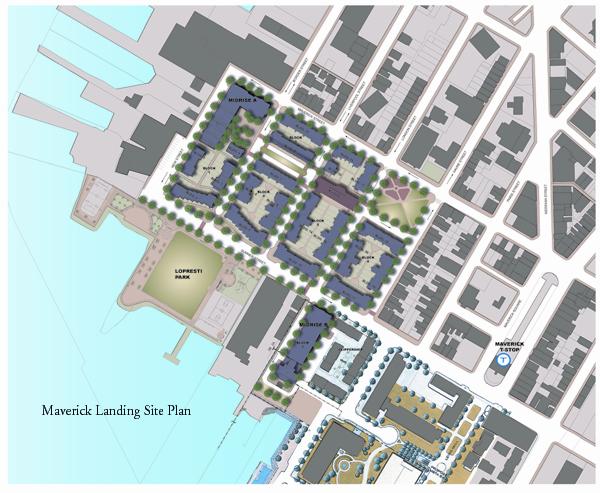 At Maverick Landing the design team faced the challenge of designing quality, mixed-income housing under the budget constraints inherent to such a project. Fortunately, through the cooperation of the Boston Redevelopment Authority, the Boston Housing Authority, and a private development entity willing to innovate, Maverick Landing reinvents what city sponsored multi-family housing can be in an urban environment. Distilled, the program's requirements were ambitious. The project was charged with replacing the monolithic super-block of the existing 1940 Maverick Gardens Public Housing Development with 400 units of housing—both market rate and affordable—using a combination of mid-rise and low-rise buildings. The units were to be designed and constructed to be attractive and livable, with the varied needs of diverse users in mind, and were to incorporate as many cost-effective green elements, as set forth by the LEED commission, as possible. The result, as evidenced in Phase I, is a very livable and significantly green neighborhood.
Maverick Landing sits squarely at the heart of redevelopment opportunities in East Boston. By restoring the historic neighborhood street pattern, interrupted by the 1940 development, the site is reconnected physically and visually, to the surrounding community, park, and waterfront. Throughout the Phase I development, a rich network of connected, pedestrian-friendly sidewalks and green spaces were included as well as completed upgrades to LoPresti Park, a waterfront park that sits off Sumner Street, just across from the project. These paths and green spaces encourage residents to explore and enjoy their community. This combination of restored streets, pedestrian walkways, and appropriately scaled and designed housing connect Maverick Landing to the social and physical fabric of the community and make it an attractive place to live.
The development offers mixed-income housing to a community that has expressed a need for both. Phase I consists of a mid-rise building of 119 units and four low-rise buildings totaling in 31 units. Of these, 23% are leased at market rate. The range of unit types found in both the mid- and low-rise buildings can accommodate a variety of living situations. All ground floor units in the mid-rise are two- and three- bedroom family friendly apartments with individual entrances. Units on the upper floors are one- and two-bedroom, some of which are barrier free, and are designed to accommodate singles, couples, and smaller families. The four low-rise buildings are three-stories with a combination of gable and flat roofs and are comprised of multi-bedroom flats and three to four-bedroom townhouses that open onto individual back yards. These units are also specifically designed to be family friendly. Some parking is designated as on-street, but the mid-rise houses a 56-space garage below ground as well as several bike racks. Public transportation is also convenient to the project with Maverick Square, a major public transit hub, 1/4 mile away. This blend of unit types, amenities and transportation options allows for the integration of middle-class families in the area who can make significant contributions to the local economy.
The array of photo-voltaic panels atop the roof of the mid-rise reflects most dramatically the commitment to sustainable design in this project. The 112 module 35 kW photovoltaic (PV) array and 75 kW cogeneration system is designed to produce all the power necessary to light the building's common areas, run its elevators and act as a back-up for domestic hot water heating. But all buildings and unit types benefit from some kind of green strategy. The mid-rise is equipped with a highly efficient gas absorption chiller / boiler that acts as both the primary heating and cooling source for the building; all lights and appliances in both mid-rise and low-rise are Energy Star rated; and partly recycled materials such as concrete, steel, and carpeting were used throughout. Many local materials were used for the project including the structural steel, wall panels, concrete and granite. For water savings, planting species for landscaping are all native to the area and drought resistant. Maverick Landing's high performance envelope includes fiberglass windows to help control condensation and thermal bridging. Extensive air sealing and air infiltration barriers minimize moisture and air intrusion. Working together these measures will ultimately prolong the life of the building and save energy. Residents have the opportunity to learn more about Maverick Landing's solar, green and energy saving aspects at the projects information center, which is located in the lobby of the mid-rise.
Quality assurance testing was specified for all of the project's major systems during construction. Thorough training of building staff is intended to assure that the building continues to operate optimally. The project's PV panels will be inspected regularly to verify that they are clean and providing maximum energy output. It is anticipated that normal rainfall will keep the panels clean.
The development also strives to improve the health of residents, many of whom have asthma, through improved indoor air quality. All units conform to the Boston Housing Authority Healthy Homes criteria for floor and wall finishes. Marmoleum, a natural sheet flooring material low in volatile organic compounds (VOC's) was used as well as low VOC paints. Wet areas in all units (kitchens and baths) have smooth and cleanable surfaces that do not trap moisture, minimizing the potential for mold growth. Each unit is ventilated beyond code requirements, supplying fresh air directly from the outside. To eliminate the potential transfer of smoke and odors among apartments, extensive air sealing separates each unit from its neighbor.
Maverick Landing is a recipient of a Massachusetts Technology Collaborative grant for renewable energy and one of the project's mid-rise buildings is currently undergoing LEED certification. The Boston Housing Authority expects the project's solar panels, on-site power generation, fiberglass windows and energy-saving lighting and motors to save $100,000 a year in energy costs.
Lessons Learned from the architect - Green is not inherently more expensive, there are trade offs. If you build a tighter envelope you can reduce the size and cost of your mechanical systems.
You need time to discuss options, so energy modeling should be done up front to give you the time to make good decisions and see how all your choices affect each other.
Creating a strong team and maintaining a positive attitude is necessary.
Green Features:
| Green Features | Maverick Landing |
| --- | --- |
| Access to Public Transportation | Maverick Square, a major public transit hub, is 1/4 mile away. |
| Compact Development | The project density is 88 units per acre. |
| Daylighting | Window placement and size allows for ample daylighting. |
| High Performance WIndows | Fiberglass composite frame double glazed low e windows. |
| Energy Efficiency Heating and Cooling | The mid-rise is equipped with a highly efficient gas absorption chiller / boiler |
| Energy Star Appliances/Lighting | All appliances are Energy Star |
| Renewable Energy | A 112 module 35 kW photovoltaic (PV) array and 75 kW cogeneration system is designed to produce all the power necessary to light the building's common areas, run its elevators and act as a back-up for domestic hot water heating. |
| Water Efficient Landscaping | Planting species are all native to the area and drought resistant. |
| Local Materials | Local materials include the structural steel, wall panels, concrete and granite. |
| Recycled Content Materials | Partly recycled materials such as concrete, steel, and carpeting were used throughout. |
| Low VOC Materials | Marmoleum, a natural sheet flooring material low in volatile organic compounds (VOC's) was used as well as low VOC paints. |
| | |