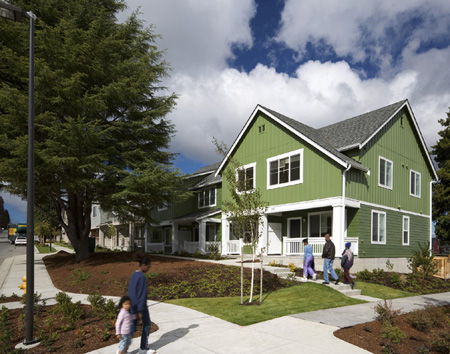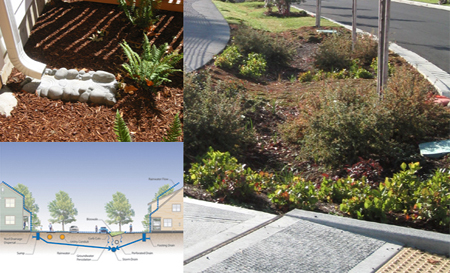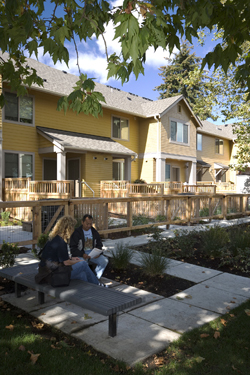 High Point is a mixed income redevelopment project of 1600 homes in West Seattle, Washington. The project replaces 716 run down housing units that were built in the 1940's to provide housing after World War II. Beyond housing, the project provides ample community amenities including: a neighborhood commercial center, health and dental clinics, a new library, an expanded community center, a neighborhood athletic field and many small parks. Site ecology, contextual design, energy efficiency, sustainability and resident health were all priorities for High Point from the outset. New urbanist approaches to walkable, vibrant communities were also incorporated into the design. Input from community meetings and extensive stakeholder surveys informed every element of the plan's development and the final neighborhood layout.
The Seattle Housing Authority sought to make the redevelopment a seamless part of West Seattle by providing community facilities for broader use and mirroring local street patterns, housing types and architectural styles. Streets are narrow (25 feet), bus service is nearby, and parks are integrated throughout the neighborhood. Providing these features serves the needs of the neighborhood's diverse population.
The housing authority and architectural firm Mithun worked together to respect High Point's ecological significance within Seattle. One of the most ambitious and challenging aspects of their efforts is High Point's integrated stormwater strategy. This natural drainage system was critical because Longfellow Creek – which has the highest Coho salmon counts of all Seattle creeks – is only two blocks away and High Point accounts for 10% of its watershed. By using a combination of vegetated swales, porous concrete sidewalks and a vegetated detention pond with a water circulating stream, High Point performs as well as an open meadow with regard to stormwater management. This was achieved even though High Point's buildings cover at 65% of the project site. The successful design and implementation of the multiple strategies involved intense collaboration among the project designers and engineers, as well as diligent training of the general contractor and subcontractors.
Units at High Point include houses, townhouses, condominiums and apartments. Layouts feature open floor plans and large windows for good daylight penetration and natural ventilation. Accessible flats have grade entries and blend seamlessly with the other units. Crisp detailing and clean lines are in keeping with the local vernacular.
The existing buildings at High Point were carefully deconstructed, allowing more than 90 % of the old-growth cedar and fir they were built with to be recovered for reuse. In addition 150 trees were preserved on-site to create a 10-acre greenbelt. Rapidly renewable and reclaimed wood products were used whenever possible at High Point. Walls are panelized for maximum resource efficiency and framing was guided by optimum value engineering strategies such as stacked framing and 24" stud spacing. Durability of materials was also considered. For example, natural linoleum flooring was used because it is anticipated to last for 40 years.
The homes at High Point exceed energy code requirements by 30 to 50%. All homes meet the local Built Green TM program three star standard and all rental units will also be Energy Star compliant. Heating in the homes is provided by gas fired tankless water heaters that feed radiators. This system allows rooms to be heated individually, essentially making each room its own heating zone and saving energy. The tankless water heaters also provide the domestic hot water. Ventilation is provided by the bath fan, which serves as the whole house fan and operates 15 minutes every hour. Makeup air is brought in via through wall vents located in all rooms, either up high on walls or in closets with undercut doors.
The project team was aware of studies showing that 10 to 12% of low-income housing occupants suffer from respiratory health problems. As such an emphasis was placed on providing livable and healthy homes for people with respiratory health issues and resulted in the use of low-VOC cabinetry, adhesives, finishes and sealants. As part of the improved indoor air quality package, the air-tight drywall approach was used which reduces air leakage through exterior walls, minimizing opportunities for mold growth. To help limit the introduction of pollutants once residences are occupied, an allowance of $2,000 is reserved for families to purchase low allergen furniture. Thirty-five of the homes set aside for low-income residents will be built as "Breathe Easy Houses" for families with asthma related health problems. Further, the Seattle Housing Authority teamed with several other local agencies and received $1.8 million in federal and private funding to assess and assist asthma occupants at High Point. To help minimize asthma and allergy triggers, plants with minimal pollen release were chosen for the landscaping at High Point.
Lessons Learned from the architect -
For the integrated stormwater management plan to work, our civil team had to have someone on site at all times. A lot of details go into making such a strategy successful. Heavy equipment can't be driven over vegetated swales nor can materials be stacked on areas that are meant to infiltrate stormwater. If the soils are compacted, infiltration won't occur. So beyond coordination during design, to really make this work, follow through in the field is critical.
Juries Comments:
The project density integrates well with the historical neighborhood pattern
The "Breathe Easy" homes are commendable
The designs are crisp and clear
The accessible zero-step entries are well done
Green Features:
| AIA Green Housing Guidelines | High Point |
| --- | --- |
| Infill/ brownfield/adaptive re-use/high density | Project density is 14 - 36 units per acre. |
| Locate near public transportation | There are bus stops and shelters on site. |
| Pedestrian/bicycle friendly | Bike paths and storage, pedestrian links |
| Landscaping: water saving/shading | Over 100 large trees preserved with approximately2,500 trees added; drought resistant plants |
| Daylighting | Home designs incorporate daylighting strategies |
| Green roofs/cool roofs | Park shelters have green roofs |
| High Performance Building Envelope | R-19 walls, R-38 roof, R-10 rigid insulation under slabs; double glazed low e vinyl windows |
| Stormwater Management | Attractive natural drainage system including a network of vegetated and grass-lined swales |
| Water Saving Appliances | Front loading washers, tankless water heaters |
| Energy Efficiency Heating and Cooling | All units have tankless hot water heaters supply wall mounted radiators and domestic hot water |
| Energy Star Appliances/Lighting | Appliances and lighting are Energy Star. |
| Renewable Energy | Carbon credits used to off set energy consumption; solar hot water |
| Recycled Content Materials or Recycling On Site | Deconstruction of existing homes; other recycled materials in kitchens and baths |
| Limit Emissions/moisture/sound/allergens | Low VOC paints, non-VOC Breath Easy homes for paints, adhesives, cabinetry, flooring |
| | |
| | |
| | |