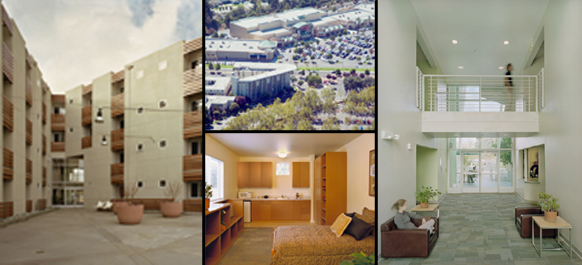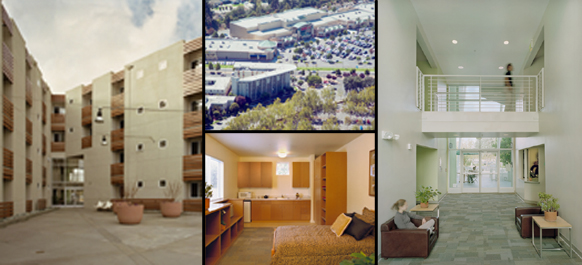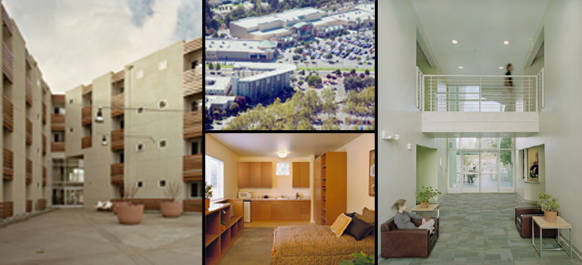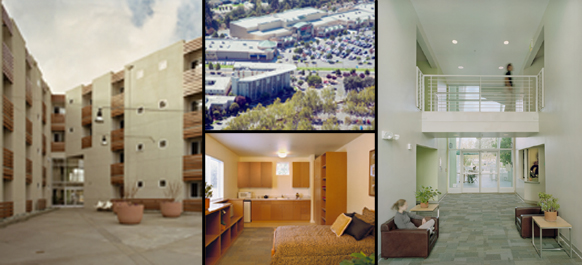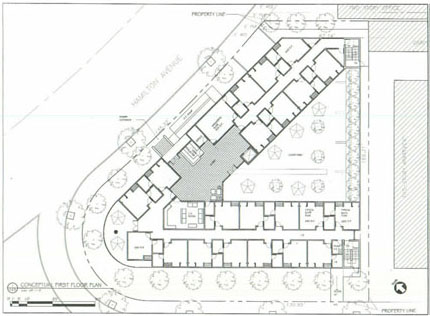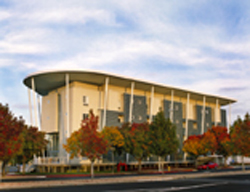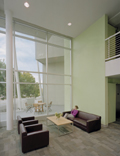 El Paseo Studios is a 98 unit Single Room Occupancy (SRO) development designed for single, working people of low income. Developed by First Community Housing (FCH) and designed by architect Jerome King AIA, the project has received design awards from the Santa Clara and East Bay AIA Chapters. Units in El Paseo range from 285 to 325 square feet and include built-in cabinets and shelving, a kitchenette and bathroom. The efficient design of each apartment provides a comfortable layout with ample daylight. Common amenities include a laundry room, computer lab, lounge, gym, kitchenette, bicycle parking and a large outdoor courtyard with tables and barbecue areas.
El Paseo transformed a formerly underutilized ½ acre parcel into an architecturally inspired project that provides housing close to jobs. It was created using a design/build approach, including all the subcontractors in the design process from concept through to construction. The project team also engaged the local community in the design process, working with the neighborhood and their city councilwoman.
The challenge of the site's triangular shape and small size was used as an opportunity to create a unique building form that responds to the street edge and compliments the adjacent retail architecture. The design carefully balances a connection to and shelter from the arterial streets on two sides of the building. El Paseo sits across from two major shopping and entertainment areas, giving service workers a housing option within walking distance of their jobs. Bus stops are conveniently located across the street, and all tenants receive a free annual "Eco-pass" for county buses and light rail. Developer Jeff Oberdorfer notes that by providing Eco-passes, FCH receives a 10% reduction on required parking spaces. "We buy about 1200 passes a year in bulk for about $30 each. The actual value to tenants is from $400-600 per year…with structured parking costing $25-40,000 a space in California, every time we save one parking space, we [essentially] pay for our entire annual Eco-pass program."
El Paseo's energy efficient building envelope includes double glazed windows and a light colored cool roof to avoid heat gain in the building. Common areas are heated with an energy efficient boiler and cooled with central air conditioning. Individual dwelling units are heated and cooled with master metered electric PTAC (package terminal air conditioner) units. These were selected primarily for their reduced first cost. Despite San Jose's relatively mild climate, the electricity bills are higher than anticipated. For this reason FCH does not plan to use individual PTACs on future projects. To remedy the situation at El Paseo, two gas co-generation units are being installed on the roof, which are projected to cut the electric bills in half. To help keep other electric loads down, all appliances are Energy Star and lighting is provided with compact fluorescent lamps.
Green materials in the project include: recycled content metal siding, fiber cement soffits, engineered lumber, beds made from sustainably harvested maple, outdoor furniture made from sustainably harvested teak, commercial grade linoleum flooring, recyclable/recycled content carpet tiles, recycled content hallway ceiling tiles, and Baltix wheatboard office furniture. While El Paseo was being built over 50% of construction waste was recycled and to help residents continue to reduce waste, there are recycling rooms on each floor. For improved indoor air quality (IAQ) formaldehyde free Medite cabinets with a non voc finish were installed. FCH noted that while the cabinets were specified for IAQ concerns they also turned out to be of a very high construction quality and will likely be more durable than standard cabinets. All apartments are individually vented and have operable windows to further improve IAQ.
Advice from the developer: Don't be afraid to start small. Introduce one new green item in each project and make it an additive process. If practical for other reasons, use the same architecture and engineering team on multiple projects. As the team learns more about green, each successive project will be even better than the last.
Green Features:
| Green Features | El Paseo Studios |
| --- | --- |
| Access to Public Transportation | Bus stops are located across the street, and all tenants receive a free annual "Eco-pass" for county buses and light rail. |
| Compact Development | The project density is 196 units per acre. |
| Energy Star Appliances/Lighting | All units are equipped with Energy Star Appliances. |
| Water Saving Appliances | Per California standards, the project uses low flow showerhead and toilets. |
| Local Materials | Milgard windows, the cement, all redwood products, and all landscape plantings are local. |
| Recycled Content Materials | Metal siding, fiber cement soffits, engineered lumber, sustainably harvested maple beds, sustainably harvested teak outdoor furniture, commercial grade linoleum flooring, recyclable/recycled content carpet tiles, recycled content hallway ceiling tiles, and Baltix wheatboard office furniture. |
| Low VOC Materials | Formaldehyde free Medite cabinets with a non voc finish |
| Other Innovations | El Paseo sits across from two major shopping and entertainment areas, giving service workers a housing option within walking distance of their jobs. |
| | |
| | |
| | |
| | |