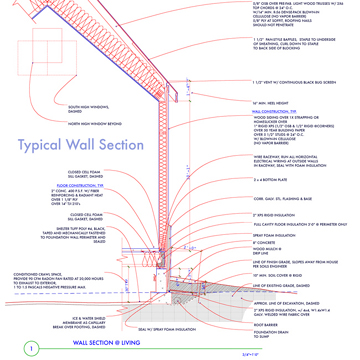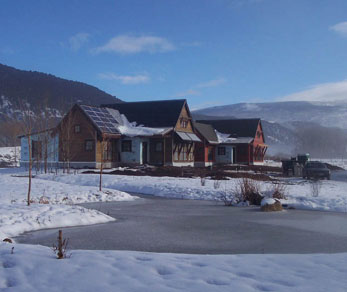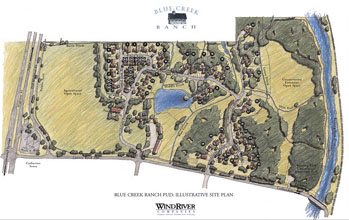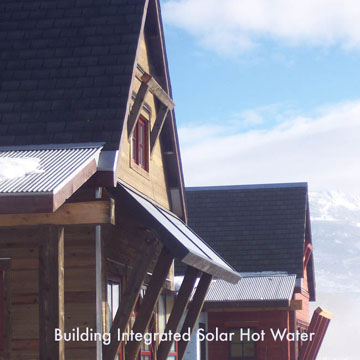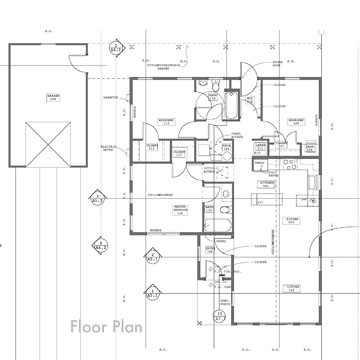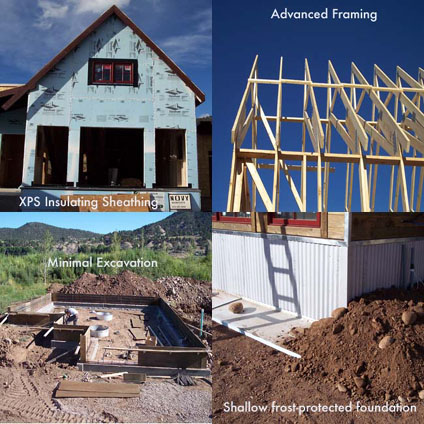 The Next Gen Homes at Blue Creek Ranch were developed as replicable prototypes of green affordable housing. The project team likes to say they designed the homes "to be reliable like a Toyota Camry and innovative like a Prius". With this in mind, the team started with a clear set of criteria that were adhered to religiously throughout the project. The homes had to be: affordable (to buy and operate), durable, healthy, comfortable, replicable (easy to build), environmentally responsible, aesthetically appropriate, accessible and improvable (each time they are built). Attaining all of these goals required the collaborative effort of an extensive design team. The process started with a full day charrette bringing together all the project stakeholders including: the land developer, architect, community energy group, general contractor, chief building official, building science experts, window manufacturer and the framing, insulation, and solar subcontractors. After this kickoff, the project team's collaboration continued, resulting in homes that fulfill the initial goals and then some!
Blue Creek Ranch is an environmentally sensitive development with 52 of its 82 acres preserved as open space. This was achieved by clustering the houses in hamlets around wetlands, mature vegetation and wildlife corridors. To preserve champion stands of ponderosa pines and prime agricultural land a large conservation easement was formed. All soil was kept on site; no excavated soil was taken out, nor was fill brought in. These strategies strove to cause minimal impact on the area's surrounding nature and neighborhoods. Careful site planning also allowed the project to include numerous amenities dedicated for public use including a bike path that extends a regional trail network and land for the expansion of an adjacent park & ride facility.
Within Blue Creek Ranch, the two Next Gen Homes stand on prominent lots near the development entrance. Of the development's 49 homes, 9 are affordable including the two Next Gen Homes. Deed restrictions with appreciation caps will keep the units affordable. All of the development's homes were held to the same high level of design quality evoking the local farm house, ranch house and mining vernacular. The nearly identical Next Gen home floor plans were designed to work well for young couples as well as seniors, with accessibility built in to a one level plan. Upon entry from the porch, the open plan provides a spacious living/dining/kitchen area with ample windows and a cathedral ceiling. To the rear are three bedrooms and two full baths. Adjacent to the home is a detached one car garage. For additional storage space, storage units are provided for each homeowner in large barn buildings within the development.
For resource and cost savings the building footprints were designed on 2-foot increments. This also allows for optimized advanced framing techniques to be used, which reduces wood use by roughly 30%. Exterior walls have OSB panels at the corners only for shear strength, - the rest of the wall area is sheathed in rigid insulation. Composite framing members, engineered I-joists and pre-fab wood roof trusses were used and wood scraps were sorted and re-used to back window trim. The use of a shallow frost-protected foundation system saved money and time by allowing for minimal excavation and reduced concrete use. All construction waste was separated for recycling.
The Next Gen Homes are built to be healthy with careful detailing of drainage planes, continuous air barriers, walls designed to dry to the interior, sealed, conditioned crawl spaces, sealed combustion mechanical equipment and mechanical ventilation. Next Gen House 1 (H1) has supply air ventilation system that blends 10% outside air with the heating system return air. H 2 has a heat recovery ventilator (HRV) that also brings in 10% outside air. In addition, baths and kitchens have efficient exhaust fans. Two weeks prior to occupancy H1 and H2 were flushed with outside air to purge indoor pollutants.
For long term durability, lasting finish materials were used including cedar siding with galvanized metal corner reinforcing from the finished floor level up and corrugated metal siding from the rim joist down to grade. The house roofs are 40 year asphalt shingles; at the entry porch corrugated metal roofing was used. The finish flooring material is concrete, perfect for dogs, kids and lasting good looks. By avoiding carpet, the concrete floors can also contribute to better indoor air quality.
Both Next Gen homes are Energy Star certified. H1 was designed to achieve energy efficiency inexpensively, using added insulation, a 92.1% AFUE sealed combustion forced air furnace, a power-vented water heater, double glazed windows and passive solar heating. H2 has a 92% AFUE boiler feeding a radiant floor, a heat recovery ventilator (HRV), two solar hot water panels, a 1.625 Kw PV array and triple glazed windows. Wary of infiltration, the design team developed a detail to thoroughly insulate and air seal one of the trickier areas in any home, the rim joist. This measure and thorough air sealing throughout the homes resulted in both being well below the goal leakage rate of .25 air changes per hour (ACH). H 1 tested at .14 ACH and H2 at .11 ACH. With the National Renewable Energy Labs (NREL) the project team is evaluating the cost and energy efficiency of H1 and H2 to determine what works best in Carbondale's cold climate. Of particular interest is the debate over forced air versus radiant slab. The radiant hydronic system costs a bit more, but offers better control, due to the ability to zone the system by room. On the other hand, the radiant slab has a slight disadvantage for passive solar heating in that it stores a little less radiant solar energy than H1's unheated slab.
The ongoing performance of the Next Gen homes is being monitored by NREL. This monitoring revealed early on that certain mechanical equipment had to be reinstalled to improve its operation. To determine the effectiveness of the designs in terms of comfort and functionality from the user's perspective, the occupants are being interviewed periodically. The occupants are also being asked about their understanding of the technology included in the homes. Their answers will inform the content of the owner's manuals being developed for H1 and H2.
To educate local builders and architects about green affordable housing, five on-site seminars, sponsored by the Department of Energy Million Solar Roofs program, were conducted by the Next Gen project team. A web site has been developed for the Next Gen homes (www.nextgenhomes.net) where project data and drawings will be available to the general public. Blue Creek Ranch now has six more deed-restricted affordable homes adapted from the Next Gen designs.
Lessons Learned from the architect - We found it to be really important to hold a "second charrette" or preconstruction meeting right before construction begins. This allows everyone that will actually be building the project to understand the goals and objectives. This is critical because the team you start with isn't always the team you're building with, for example your general contractor may have changed project managers during the design phase. It's also typical that many subcontractors are not in place for the initial charrette. This meeting gets everyone up to speed.
For passive solar design, the solar heat gain coefficient (SHGC) of the windows in relation to window orientation has to be carefully considered. Once this is done, getting the right windows installed in the right façade is the next challenge. For instance, on our south elevations, we wanted windows with a high SHGC - meaning they will admit more heat - for passive solar heating. Conversely, on the west it was important to have a low SHGC, to avoid late day overheating of the homes. What we found is that the NFRC labels on the windows delivered to the job site usually won't reflect the special high SHGC coefficient of the glazing for the south windows. It is expensive for window manufacturers to get an NFRC label for a given glazing within a given frame so they use the ones they have, which typically show a low SHGC. Don't panic when you see this. The window manufacturer will have documentation to show that he has installed the proper glazing in the windows, but it won't likely be shown on the NFRC label.
Green Features:
| Green Features | Next Gen Homes |
| --- | --- |
| Access to Public Transportation | The project has dedicated land for the expansion of an adjacent park & ride facility. |
| Compact Development | The project density is 8 units per acre. Some green guidelines consider over 6 units per acre for single family detached homes higher relative density. |
| Passive Heating and/or Cooling | Concrete slab floors along with proper orientation and window placement provide passive solar heating. |
| Daylighting | Daylighting is fostered with ample windows, an open floor plan for common spaces and a cathedral ceiling. |
| Superinsulation | Exterior walls are R-24, Roof insulated to R-56 |
| High Performance WIndows | H1 has double glazed windows, H2 has triple glazed windows. The solar heat gain coefficient (SHGC) was specified considering the different building facade orientations. (See "Lessons Learned from the architect) |
| Energy Efficiency Heating and Cooling | H1 has a 92.1% AFUE sealed combustion forced air furnace, H2 has a 92% AFUE boiler feeding a radiant floor and a heat recovery ventilator (HRV). |
| Energy Star Appliances/Lighting | The units are equipped with Energy Star Appliances. |
| Renewable Energy | H2 has two solar hot water panels and a 1.625 Kw PV array. |
| Water Efficient Landscaping | Native plantings were used on the homes sites and the irrigation systems are designed for temporary use, to establish the plantings only. |
| Recycled Content Materials | Composite framing members were used, engineered I-joists, recycled blown-in cellulose insulation in roofs and walls. |
| Low VOC Materials | Water-based sealer was used for the concrete floors. |
| Other Innovations | The design team developed a detail to thoroughly insulate and air seal one of the trickier areas in any home, the rim joist. This measure and thorough air sealing throughout the homes resulted in both being well below the goal leakage rate |