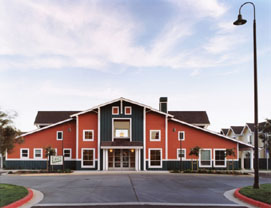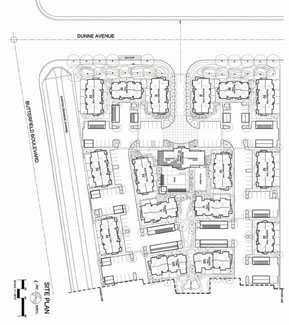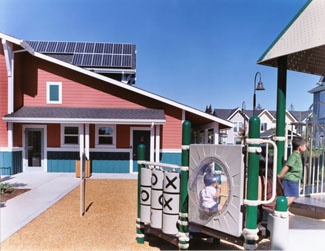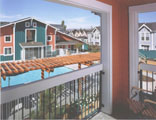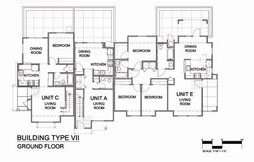 Murphy Ranch is a rental community of two, three and four bedroom townhouses in Morgan Hill California, 20 miles south of San Jose. With simple gable roofs, clapboard siding and ample green space, Murphy Ranch reflects the rural aesthetic of its surrounding area. The development is laid our in four and five-plex buildings flanking a central spine which includes a large ranch-style community building, a playground and a solar heated swimming pool. The pool area is outfitted with shading trellises, sustainably harvested teak patio furniture and an outdoor shower. Pedestrian walkways meander through the complex offering routes separated from vehicular traffic. The community building houses a lounge, fireplace, kitchen, computer lab, managers' office and meeting room. The townhouses at Murphy Ranch have well proportioned living spaces and private, fenced-in rear yards. Incorporated into the unit types are UFAS compliant one-storey flats and units for the sight and hearing disabled. Built in two phases, the project has a total of 100 units.
Located in an area of large homes and rolling hills, the attractive complex met with no opposition during the public approval process. Developer First Community Housing (FCH) sought extensive community input on the project design which informed the site plan and the overall aesthetic of the buildings. Murphy Ranch was built using a design/build method, as such all subcontractors were involved in the design process and the key decision faced during it. As a result, the cost of change orders was kept to less than 1.5% of construction costs.
While in keeping with the area's architectural context, Murphy Ranch incorporates several innovative technologies. Most visible are the photovoltaic (PV) panels on the community building and car port roofs which provide over 90% of the common area electricity. FCH is installing direct computer connections between the PV array and their office to monitor the performance of the system. Each townhouse is heated and cooled using a gas fired sealed combustion Apollo hydronic loop system. Double glazed operable windows, R-19 walls, Energy Star appliances and lighting , deciduous shade trees and deep overhangs all contribute to Murphy Ranch exceeding the California Energy Code by 25%. For its exemplary energy performance, the project received a State of California "Flex Your Power" award. FCH carries energy savings beyond the complex by providing all Murphy Ranch residents with a free annual, Ecopass, allowing them to ride the county buses and light rail trains at no cost. There is a bus stop across the street from the development and a local train station just two blocks away.
In addition to being energy efficient, Murphy Ranch incorporates many recycled content and highly durable materials such as commercial grade linoleum flooring, Interface recycled content/recyclable carpet tiles, fiber cement siding, 40 year composition roof shingles, engineered structural lumber, Baltix wheatboard office furniture, and Steelcase recycled content office chairs. While Murphy Ranch was being built, over 50% of construction waste was recycled and there are recycling bins at all exterior trash receptacles in the complex. To minimize off gassing and improve indoor air quality, interior paints are non VOC and cabinets, trim and shelves are made with formaldehyde-free Medite board, and the building envelope is insulated with formaldehyde-free batt insulation. In addition all gas appliances are sealed combustion. For continued good IAQ, residents and management staff are trained to use green cleaning products. To minimize water use, all fixtures are low-flow and drought resistant plantings were used for the landscaping.
Lessons Learned from the developer - Our advice for lower density projects like Murphy Ranch (14 units per acre) is to pay close attention to minimizing impervious surfaces. In addition, we felt the project would have been greatly improved with lighter color roofing shingles and pervious concrete.
Green Features:
| Green Features | Murphy Ranch |
| --- | --- |
| Access to Public Transportation | Murphy Ranch residents have a free annual Ecopass allowing them to ride the county buses and light rail trains at no cost. There is a bus stop across the street from the development and a local train station two blocks away. |
| Compact Development | The project density is 14 units per acre. |
| Passive Heating and/or Cooling | Deciduous shade trees and deep overhangs avoid excessive solar heat gain. |
| High Performance WIndows | Double glazed low e windows. |
| Energy Efficiency Heating and Cooling | Each townhouse is heated and cooled using a gas fired sealed combustion Apollo hydronic loop system. |
| Energy Star Appliances/Lighting | All units are equipped with Energy Star Appliances and lighting. |
| Renewable Energy | Photovoltaic (PV) panels on the community building and car port roofs provide over 90% of the common area electricity. |
| Water Efficient Landscaping | Drought resistant plantings were used for the landscaping. |
| Water Saving Appliances | All fixtures are low-flow. |
| Recycled Content Materials | Interface recycled content/recyclable carpet tiles, Baltix wheatboard office furniture, and Steelcase recycled content office chairs. Over 50% of construction waste was recycled and there are recycling bins at all exterior trash receptacles in the complex. |
| Low VOC Materials | Interior paints are non VOC and cabinets, trim and shelves are made with formaldehyde-free Medite board, and the building envelope is insulated with formaldehyde-free batt insulation. |
| | |