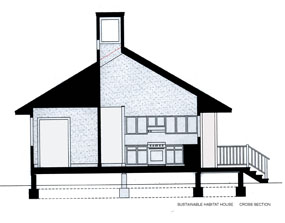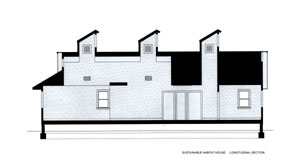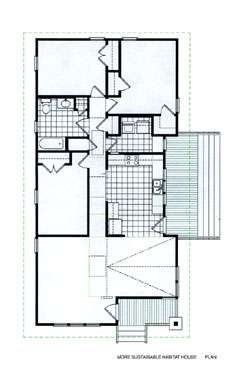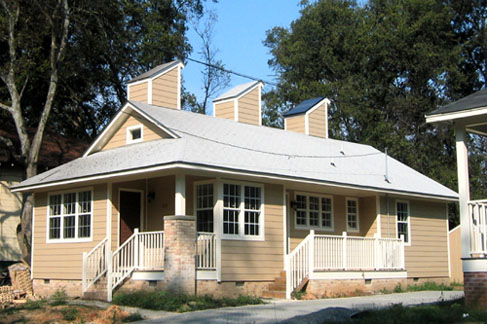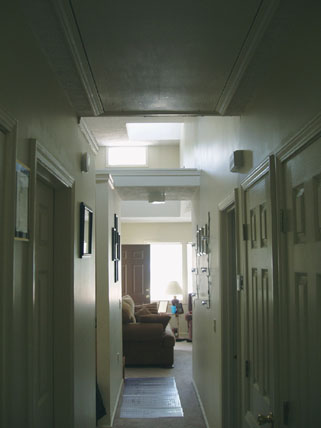 The Jackson Community Design Center worked with Habitat for Humanity to design its first environmentally friendly house in Mississippi. The house was one of six Habitat houses built on infill lots in inner-city Jackson. To support making the home green, Mississippi 2020, an environmental justice organization, received a grant from the City of Jackson for sixty thousand dollars. This is approximately one-third more than Habitat's typical budget for a home. The additional money was used for green materials, added construction cost, and improved mechanical systems.
The site for the green Habitat house was chosen for its favorable solar orientation and its adequate size for a backyard garden. Other local amenities include a neighborhood school on the next block, and a park and major bus line a few blocks away. The section of Jackson where the Habitat homes were built has the lowest median household income in the city and many people cannot afford to own a car so access to public transportation is critical. The project also strives to make the neighborhood safer for walking by providing from porches and ample windows for "eyes on the street". Although the project's neighborhood has suffered from lack of investment for the past two decades, it is within two miles of Jackson's central business district and is gradually being redeveloped by several community organizations.
The design team for the project was the Jackson Community Design Center, a service and research arm of Mississippi State University College of Architecture along with: Mississippi 2020; Habitat for Humanity's full-time builders; Carl Young, a mechanical engineering professor from Mississippi State University; and the future home owner, a single working mother of three. A formative part of the design process was to consider various alternatives to Habitat's typical building approach and to improve upon their standard design. Many of the design decisions were shaped by the fact that the house would be built with supervised volunteers and was to be easily operated and maintained. The completed design improves on Habitat's typical design in several incremental ways including: larger roof overhangs and a hip roof for improved window shading, additional windows for better lighting and cross ventilation, overall improved energy efficiency and the use of more durable materials. One such material, fiber cement siding versus hard board, was ultimately used on the other five Habitat homes in the neighborhood as well.
The green home's neighbors include a mix of bungalow style dwellings. While the green home blends well with the bungalows, the designers wanted it to be unique enough to make people look twice and ask questions. Most distinct to its identity are the three towers of the home's energy independent ventilation system. Each of the towers contains an exhaust fan that is powered by a photovoltaic panel and is controlled by an exterior dual sensor that measures temperature and humidity. In Mississippi's warm humid climate there are many days that change from favorable outside air to conditions that are too hot or too humid. The dual control overrides a switch so that the owner can only use the fans to bring fresh air into the house under favorable conditions. The towers also serve to bring daylight into the interior of the house so that no artificial lighting is needed during the day.
Although reducing energy use was a high priority for the project, the energy efficient heat pump originally specified was not used because of budget issues. Despite this, other energy efficient measures were incorporated including the ventilation system, cellulose insulation, light colored roofing, extensive air sealing and energy efficient fluorescent light fixtures. All of the rooms have ceiling fans and slightly higher than standard ceilings (8'-4" versus 8'-0") to allow for adequate air circulation. Mississippi 2020 continues to work with the home owner to document the energy use and compare it with houses of the same size in the neighborhood.
Roof rainwater is collected in two elevated 550 gallon cisterns to water the garden and flush the toilet. With about 60 inches of annual rainfall the thousand gallon storage is typically full and can span a dry period of several weeks. More complicated water reuse systems were considered; however, a simple system without any pumps or filters was deemed most practical for the homeowner. The house also uses a Saber horizontal axis washing machine which saves 30 gallons per load. The home's driveway is porous, made of cellular concrete blocks with turf, to reduce storm water run-off. Although it is not a large area, the pervious driveway serves as a valuable demonstration to the neighborhood.
Green materials for the home include: certified sustainable lumber, recycled cellulose insulation, Hardie Plank exterior siding, and composite decking for the porches (instead of pressure treated lumber). On the interiors Stone Craft composite flooring, PETE recycled carpeting and low VOC paints were used. For continued resource efficiency, the home owner has been trained to recycle and to compost household waste for her backyard garden.
A long-term, goal for the house is to demonstrate an exciting and innovative way to rebuild an inner-city neighborhood and to provide an example of affordable sustainable strategies. In keeping with this goal, the green home's owner is very proud of her house and has become a spokesperson for sustainable practices. To educate others on the benefits of this green home, Mississippi 2020 will be producing an instructional video on the house's design and construction.
Lessons Learned from the architect - We found that education at the front end is critical for creating an alliance with the client – in this case Habitat for Humanity. Our design asked them to change their normal way of building homes. If they didn't understand the importance of why we were doing things so differently, they would have resisted the changes. It also wasn't the normal relationship you'd have with a contractor - if the work isn't done right, the contractor doesn't get paid. We didn't have that kind of leverage here. You also don't want to get into a situation where the client says "I'll never do that again". You want it to be a positive experience all around. By clearly communicating and educating the client, they were able to buy in to the green strategies and become committed proponents of the project. It worked for us. Habitat is really happy with the house and now we are working with them on coastal rebuilding efforts in the wake of Hurricane Katrina.
One obstacle that we never anticipated was the difficulty of building 8'-4" walls rather than the standard 8'-0" (to better accommodate air flow at our ceiling fans). Habitat usually uses a 92-5/8" stud; this along with the bottom plate, two top plates and the ceiling gypsum gives them an 8' wall. We thought it would be simple enough to switch out the 92-5/8" studs for 96". It turns out that the 8' studs were not exactly 8', they varied as much as 3/4". So someone on the job site had to stand there measuring the studs and trimming them. Needless to say it took a lot of time and Habitat was not too happy about it. In the future, we'll be sure that we get our 8 footers from a supplier that has better quality control.
Green Features:
| Green Features | Jackson Habitat House |
| --- | --- |
| Access to Public Transportation | A major bus line is a few blocks away. |
| Passive Heating and/or Cooling | Three towers are part of the home's energy independent ventilation system. Each towers contains an exhaust fan that is powered by a photovoltaic panel and is controlled by an exterior dual sensor that measures temperature and humidity. In Mississippi's warm humid climate there are many days that change from favorable outside air to conditions that are too hot or too humid. The dual control overrides a switch so that the owner can only use the fans to bring fresh air into the house under favorable conditions. |
| Daylighting | The ventilation towers also serve to bring daylight into the interior of the house so that no artificial lighting is needed during the day. |
| High Performance WIndows | Double glazed low e windows. |
| Energy Star Appliances/Lighting | Energy Star Appliances. |
| Renewable Energy | Three fans for the project's ventilation system are powered by photovoltaic panels. |
| Stormwater Management | The home's driveway is porous, made of cellular concrete blocks with turf, to reduce storm water run-off. Roof rainwater is collected for toilet flushing and garden irrigation. |
| Water Efficient Landscaping | Native plantings were used. |
| Water Saving Appliances | The house has a Saber horizontal axis washing machine which saves 30 gallons per load. |
| Gray and/or Black Water Treametnt | Roof rainwater is collected in two elevated 550 gallon cisterns to water the garden and flush the toilet. With about 60 inches of annual rainfall the thousand gallon storage is typically full and can span a dry period of several weeks. |
| Recycled Content Materials | Cellulose insulation and PETE recycled carpeting |
| Low VOC Materials | Low VOC paints were used. |