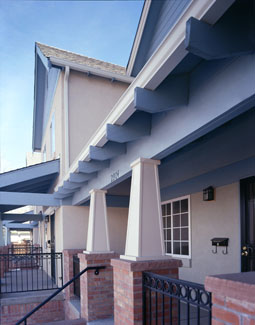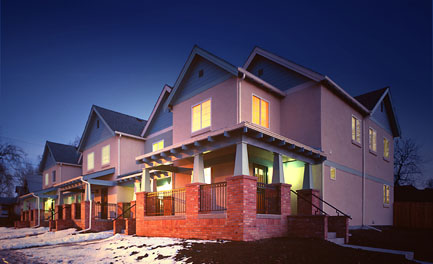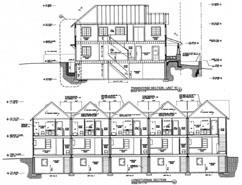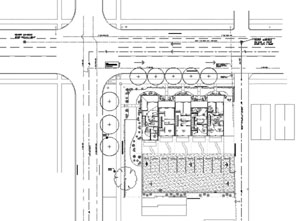 Bruce Randolph Healthy Homes were developed by the Northeast Denver Housing Center, Inc. (NDHC) , a non-profit affordable housing developer that incorporates many green and energy efficient features into their projects. The project architect, The Abo Group, Inc. has, as a core principle, a commitment to sustainable architecture. NDHC, The Abo Group, Inc. and Enermodal Engineering, a sustainable engineering and materials consultant, collaborated to create the green and energy efficient building specifications used for the Bruce Randolph Healthy Homes project. A series of charrettes were held with the design team, local neighborhood groups, the City of Denver Community Development staff and graduate students and professors from the University of Colorado School of Architecture. The charrettes established the sustainable goals for the project, the integration of the design into the neighborhood and kept the community informed of the project's progress. The design team goal was for the Bruce Randolph Healthy Homes to be affordable (60-80 percent of Area Median Income (AMI)), efficient, healthy and to have a minimal impact on the environment.
Less than two miles from Downtown Denver, this five two- and three-bedroom unit project has easy access to public transportation, shopping, jobs and schools. The site is located at the corner of Bruce Randolph Avenue and Fillmore Street in the Clayton neighborhood. Clayton's residents are primarily African American and Hispanic and its housing stock is a mixture of turn-of-the-century Victorians and some "Urban Renewal" 1970-80 structures. The Bruce Randolph Healthy Homes were designed with traditional front porches, gabled roofs and brick and stucco exteriors to blend well with the older neighborhood homes.
The Bruce Randolph Healthy Homes were rated by the E-Star program at 89 and 90 points, or 5 stars for a middle unit and 5-1/2 stars for an end unit. According to the E-Star Rating, the west end unit in the Bruce Randolph Healthy Homes will save its owners $231 per year and reduce CO2 emissions by 3.5 tons/yr compared to the same unit built to state code energy levels. Similarly, the middle units will reduce energy costs by $150/yr and reduce CO2 emissions by 2.3 tons/yr. These impressive savings were achieved with a substantially insulated building envelope, passive solar design and energy efficient mechanical systems. The basement uses insulating concrete forms (ICF) achieving an R-19, above grade exterior walls are 2x6 with R-21 insulation, and the cellulose insulated ceiling is R-38. The windows are double-glazed, low e, argon filled with vinyl frames. Extensive air sealing was done to insure a tight building envelope.
The townhomes are oriented so that each unit has southern exposure. The amount of south-facing glass and the window overhangs were designed to allow maximum solar gain during winter without causing overheating in the summer. Although an active photovoltaic system is not included, in anticipation of a future system the back roofs of the townhomes are oriented due south, sloped at 40 degrees and prewired for PV (electrical conduit runs from the roof to the basement electrical panel).
The townhome end units are heated with 92.0 AFUE furnaces, and middle units are 80.0 AFUE. All ducts are within conditioned space and are sealed with mastic. The water heaters are .63 EF. Other features for reducing energy bills include: Energy Star refrigerators and dishwashers; compact fluorescent light fixtures and bulbs provided throughout units; and Tamarack HV-1000 super-quiet, energy efficient whole house fans with automatic dampers.
The deconstruction of two single family homes on site provided the opportunity for training of single women from MiCasa's Avendias Project – a women-in-construction training program run by the Mi Casa Resource Center for Women. The trainees also helped on site with duct installation, duct sealing, and air sealing. The deconstruction resulted in the re-use of lumber, brick, doors and cabinets, diverting over 214 cubic yards of material from the landfill.
Bruce Randolph Healthy Homes uses many green and/or durable materials that reduce long-term maintenance costs. The roof shingles will last for 40 years – twice as long as typical shingles. The project also uses bamboo flooring which is durable and rapidly renewable; carpet made from recycled plastic bottles; metal powder coated deck railings which are more durable than wood and will not need repainting; ceramic tile; brick and stucco low maintenance exteriors; fiber cement siding and FSC (Forest Stewardship Council) certified framing lumber.
The interior paint used in this project has no VOCs and the floor finish sealers are water based no VOC - formulated for residential hardwood floors. The EPA rates Denver as a Zone 1 radon area, meaning that 1/3 to 1/2 of homes have above the EPA hazard level for radon. As such, Bruce Randolph Healthy Homes has a radon mitigation system consisting of perforated PVC pipe embedded in 4" of gravel under the slab. Using a fan, the PVC pipe carries any radon collected under the slab to the outside.
Low-flow toilets, showerheads, and other fixtures (kitchen and bath sink fixtures) were installed to reduce water use and save money. To reduce exterior water use, the homes have zoned irrigation and Xeriscaping designed with minimal turf grass.
Bruce Randolph Healthy Homes Phase I was completed January 2001. All the homes were sold to families at or below 80 percent of the AMI. Qualifying as "Built Green" by Colorado's green builder program, The Bruce Randolph Healthy Homes demonstrate that new housing can be beautiful, durable, healthy, energy efficient and affordable.
Lessons Learned from the architect - The energy efficiency features at Bruce Randolph Healthy Homes are saving the families even more money than anticipated. The Northeast Denver Housing Center researched the performance of the townhomes and found that actual savings well exceeded projections:
Code Compliant Projection
E-Star Projection
Actual Bills
Gas (Annual Bill)
$508.53
$277.11
$106.78
Electric ( Annual Bill)
$356.03
$356.44
$196.14
Green Features:
| Green Features | Bruce Randolph Healthy Homes |
| --- | --- |
| Access to Public Transportation | Less than two miles from Downtown Denver, this project has easy access to public transportation. |
| Passive Heating and/or Cooling | The townhomes are oriented so that each unit has southern exposure. The amount of south-facing glass and the window overhangs were designed to allow maximum solar gain during winter without causing overheating in the summer. |
| Daylighting | The glazing that serves the projects passive solar design also provides daylighting. |
| High Performance WIndows | The windows are double-glazed, low e, argon filled. |
| Energy Efficiency Heating and Cooling | End units are heated with 92.0 AFUE furnaces, ( middle units are 80.0 AFUE). All ducts are within conditioned space and are sealed w/ mastic. |
| Energy Star Appliances/Lighting | All units are equipped with Energy Star Appliances. |
| Water Efficient Landscaping | The homes have zoned irrigation and Xeriscaping designed with minimal turf grass. |
| Recycled Content Materials | The deconstruction of two exisitng homes on the site resulted in the re-use of lumber, brick, doors and cabinets, diverting over 214 cubic yards of material from the landfill. |
| Low VOC Materials | The interior paint used in this project has no VOCs and the floor finish sealers are water based no VOC - formulated for residential hardwood floors. |
| | |
| | |
| | |