Location
Bridgeton, nj
United States
US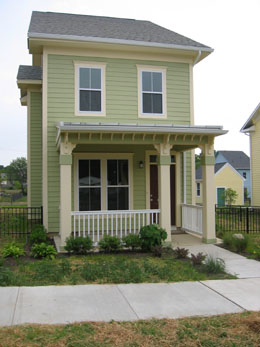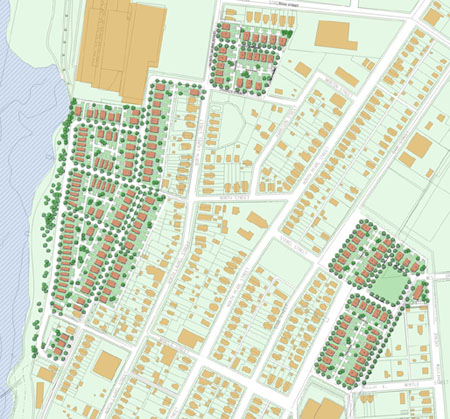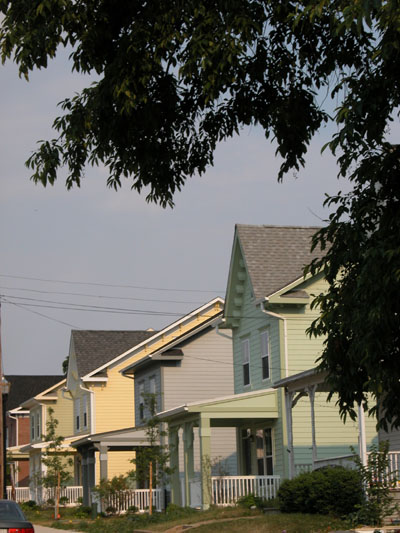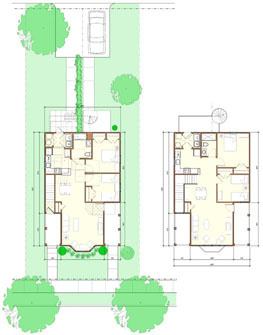 Bridgeton, New Jersey has the largest Historic District in the state, boasting a generous stock of handsome Victorian and Craftsman style homes. Bridgeton also suffers from the sustained economic depression of a northeastern town whose industrial economic base has withered. As such, many of its historic homes are in poor condition. The city's public housing units are particularly run down and obsolete by contemporary standards. Further, Bridgeton has not had significant new housing built in decades. The Bridgeton Revitalization project has turned that tide by creating attractive, functional new housing that accommodates a wide range of family types and income levels. Bridgeton Revitalization replaces the existing public housing and adds additional units. The 2, 3, and 4 bedroom homes have modern kitchens and bathrooms, generous bedrooms, and open living spaces. A number of the units are specially designed for residents with physical disabilities by providing both accessible and visitable units. Public transportation via bus is within walking distance of the project.
The siting of Bridgeton's existing public housing disrupted the area's urban and architectural fabric by separating the city from the Cohansey River with heavy handed brick buildings. Bridgeton Revitalization strives to mend the fabric by replacing these buildings with new houses scattered among infill blocks and lots in the town's Historic District. These new homes respect the massing, detailing, and colors of their context while reflecting contemporary needs--bigger houses, more open living areas, and more parking—rendered with modern materials and methods. Reuse of a handful of efficient floor plans is disguised by a wide variety of elevation types, details, and color schemes. These new units allowed the existing public housing to be razed and its riverside site restored as parkland.
Some of the project's redeveloped blocks were formerly commercial or brownfield sites requiring environmental remediation. One such site had an industrial warehouse on the riverbank. This was redeveloped with homes and now reconnects the neighborhood to the river. In knitting the new project into the city fabric, improvements were made to existing roads, utilities, and sidewalks, providing greater community interconnectivity. A new community center and park serve as neighborhood resources and elegantly resolve an awkward intersection of two street grids.
As part of the project's integrated design process, the blocks, houses, and community center were designed with the active input of residents, neighbors and Housing Authority staff, through a series of public meetings. Stakeholders were brought into the process early to coordinate new utilities, street improvements, and phasing in a historic urban context. The development team coordinated the input and oversight of a multitude of elected officials and local, state, and federal funding sources. The mechanical/electrical/plumbing engineer, builder, and architect collaborated on the most effective ways to incorporate sustainable materials and systems into the project.
Achieving goals for accessibility, visitability, and drainage required the active coordination of the Civil Engineer and the Architect to fine-tune the grading and construction details. The accessible units also created an aesthetic challenge for the architects. As is typical of the style, the Victorian homes in Bridgeton accentuate their verticality and are raised up from grade at least one-half level. This was not a workable solution for the at-grade entry required for the accessible units. As a result, instead creating inelegant, squat Victorians, the accessible units were designed in a contextual Craftsman style, which lends itself to a more horizontal look.
As stipulated by public and private funding sources, the project has been constructed of "maintenance-free" materials. Additionally, as affordable family housing with a large rental component, it has to stand up to heavy use. As such, common production housing details, such as vinyl siding and columns of aluminum extrusion were avoided, in favor of more durable materials including cement board siding and trim, solid PVC columns and standing seam metal roofing on the porches.
Building envelope durability and indoor air quality was addressed by including proper detailing for waterproofing and air tightness in the construction documents. These details were adapted from the Energy Efficient Builders Association (EEBA) Builder's Guide for Cold Climates and were shown as three dimensional drawings, making it that much easier for people in the field to understand and follow. To maintain a high level of quality, and minimize construction waste, the homes were built using open wall panels fabricated off site. Within the homes a healthy indoor environment was created using low VOC paints, adhesives, and sealants as well as Greenseal carpets and linoleum. To manage stormwater runoff, building footprints, alleys and parking pads were kept as compact as possible. Within the units water efficient showerheads and faucets, as well as high efficiency water heaters were installed.
By implementing an architectural language consistent with the existing Victorian fabric, the houses took full advantage of inherent passive design strategies. Deep eaves and front porches protect openings from rain and direct summer sun. Large vertical windows and an open living space allow daylighting to filter through the house. All windows are operable, and transom vents allow air to ventilate the whole house. Beyond passive strategies, as part of a commitment to the New Jersey Balanced Housing program, every house in the project, as well as the community center, are Energy Star Certified. Energy efficient features include: panelized wall construction (for improved air tightness), appropriate insulation levels, double glazed, low-e argon filled windows, extensive air sealing, energy efficient heating and cooling systems and Energy Star appliances.
Lessons Learned from the Architect - Panelized construction can improve your project's quality and energy efficiency without increasing your cost. It affords a certain standard of care and precision that you might not get from a comparable site built product. Our project would have needed a lot more caulking and air sealing to pass its blower door test if it wasn't panelized.
We stuck to the basics of energy efficiency mostly targeting on infiltration because it has such a big impact on energy use - that and remembering the wisdom of the area's traditional architecture, with its elements like porches and deep roof eaves. We tend to forget that all those details weren't just about aesthetics; they made the buildings comfortable and durable long before air conditioning and vinyl siding existed.
Green Features:
| Green Features | Bridgeton Revitalization |
| --- | --- |
| Use of Brownfield | Some of the project's redeveloped blocks were formerly commercial or brownfield sites requiring environmental remediation. One such site had an industrial warehouse on the riverbank. |
| Access to Public Transportation | A bus line is within walking distance of the project. |
| Compact Development | The project density is 11 units per acre. |
| Passive Heating and/or Cooling | Deep eaves and front porches protect openings from direct summer sun. All windows are operable, and transom vents allow air to ventilate the whole house. |
| Daylighting | Large vertical windows and an open living space allow daylighting to filter through the house. |
| High Performance WIndows | Double glazed, low-e argon filled windows |
| Energy Efficiency Heating and Cooling | High efficiency condensing gas furnaces and SEER 13 AC |
| Energy Star Appliances/Lighting | All units are equipped with Energy Star Appliances. |
| Water Efficient Landscaping | Native plant species were used to minimize the need for irrigation. |
| Water Saving Appliances | Within the units water efficient showerheads and faucets were used. |
| Local Materials | The projects panels were manufactured locally. |
| Low VOC Materials | Low VOC paints, adhesives, sealants and Greenseal carpets and linoleum. |
| Other Innovations | Bridgeton uses panelized construction for minimal waste and improved air tightness. |